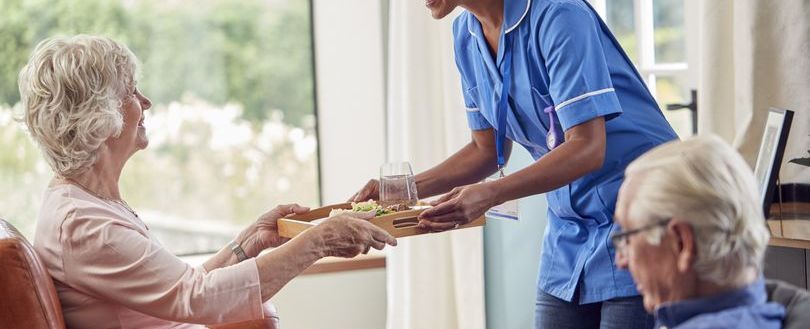 Residents of a Blackburn nursing home were relocated due to serious fire risks
Residents at a care home have been forced to move out after inspectors found serious fire safety failings. 
Springfield Cottage Residential homes have been served with a restriction order by the fire service after it found residents were at serious risk.
Blackburn with Darwen Council, which commissioned care for most of the Blackburn home's residents, said people were moved out "swiftly". Attempts have been made by the BBC to contact the care home. The Care Quality Commission (CQC) and Lancashire Fire and Rescue Service (LFRS) visited the home on Preston New Road in June after the fire service raised safety concerns.
The home, which has a capacity for 26 people and offers care for the elderly and those with dementia, had 24 residents at the time. Relocating residents: Inspectors found "significant shortfalls in the assessment, management, and mitigation of risk in relation to people's safety in the event of a fire," a CQC report published on July 12 said. The home had breached fire regulations with significant shortfalls in the fire safety arrangements and was moving people to safety, the report said. It also revealed there were insufficient staffing levels to safely evacuate people in the event of a fire, with the majority of staff not completing mandatory fire training. CQC action was superseded by LFRS, which served the home with a restriction notice and worked with the council to rehome residents.
"Following breaches of the Regulatory Reform (Fire Safety) Order 2005 identified at a residential care home in Blackburn, the premises have been restricted, which means residents have had to leave," an LFRS spokeswoman said. "We have worked closely with Blackburn with Darwen Council and Lancashire County Council to ensure the safety of all those affected."
'Last resort' Mark Warren, Blackburn with Darwen's strategic director of adults and health, said the authority had worked very closely with the fire service to assess risks to the residents "with their wellbeing first and foremost in all our decisions and actions".
"Moving residents out of their homes is always a last resort, and the decision was not taken lightly," he said. "Our social workers carried out full social care assessments with each person to ensure the new accommodations sourced were based on their individual needs." Louise Taylor, executive director of adult services and health and wellbeing at Lancashire County Council, said social workers were continuing to work with residents and their families to help with the transition.
Our eNews provides regular insight into industry trends, news headlines, and product and service information. For news articles parallel to those mentioned above, sign up for our eNews. Click here to sign up: Subscribe to our enews (fia.uk.com)