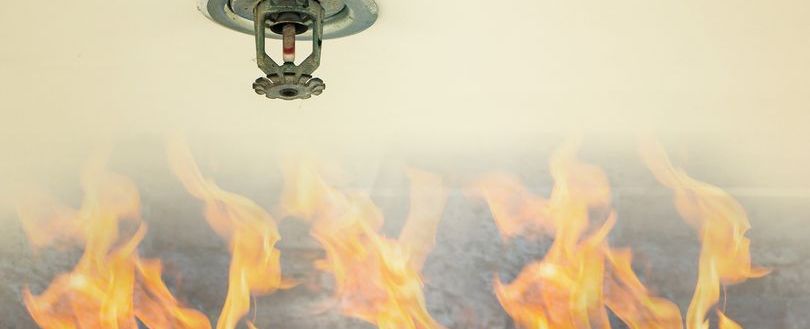 New research shows that the vast majority of high-rise social housing buildings lack fire alarms and sprinklers
Six years after the Grenfell Tower fire, only 18.9% of high-rise social housing blocks have fire sprinklers installed, and only 12% have fire alarms, according to new Inside Housing research.
New information gathered by Inside Housing shows that only 334 of the 1,768 social housing blocks in the UK owned by 37 housing associations and councils have sprinklers installed, and only 217 (12%) have a block-wide fire alarm.
Birmingham City Council spent £93 million installing 181 sprinklers, bringing the overall countrywide percentage down to just 8.6%.
Both manual and sprinkler fire alarms are now required for new construction, but there is no legal requirement to retrofit them. Instead, the government still completely relies on the building's "compartmentation" to keep occupants safe during a fire.
Despite the Grenfell Tower Inquiry's recommendation in October 2019 to retrofit manually operated fire alarms, and despite the government being instructed to encourage social landlords to install sprinklers in 2013 after six people died at Lakanal House,
The National Fire Chiefs Council (NFCC) and the Royal Institute of British Architects (RIBA) called the findings "shocking". They urged the government to mandate sprinkler retrofits in high rises in response to the study.
Sprinklers reduce the risk of property damage and fatalities by putting out or containing fires 99% of the time, according to research cited by both bodies.
The retrofit was particularly low in London, where of 771 towers owned by 14 local authorities, just 41 had been fitted with sprinklers and 43 had been fitted with fire alarms.
Charlie Pugsley, assistant commissioner for fire safety at the London Fire Brigade (LFB), said the numbers of sprinklers in high rises in the capital were "still very low", adding that "we would like to see this increase".
He added that sprinklers are "not a luxury" and "save lives and reduce risk to the firefighters who have to tackle the fires".
A representative for London Councils noted the "extremely challenging" financial environment and stated that the organisation was looking for additional government funding to support fire safety initiatives.
The UK places a special emphasis on 'compartmentation' to protect buildings, whereas other jurisdictions prefer to rely on suppression, according to Professor Guillermo Rein, professor of fire science at the Department of Mechanical Engineering at Imperial College London.
The lack of sprinklers in a high-rise building would be unthinkable in the US, but there is much less emphasis on fire doors, for instance, he claimed. The extra layer of fire protection provided by early suppression is not valued in the UK.
By using fire doors, fire-stopping, two-hour fire-resistant walls and floors, and other measures, UK guidance aims to ensure that a fire will remain inside the flat of origin until it is put out by firefighters.
This, however, can be jeopardised by negligent management, combustible materials on the exterior facade (as was the case at Grenfell and Lakanal House), or even by fire merely bursting through open windows.
It can also be undermined by modern construction methods, such as timber frame or modular construction, which can be more vulnerable to fire spread than traditional masonry construction.
Professor Rein said, "If the minimum standard was established 20 years ago, but new hazards are entering the built environment every day, it may no longer be appropriate."
According to research from the University of Leeds in 2021, there is a higher risk of death in high-rise fires, in part because it takes a lot longer for firefighters to enter the building, get to the floor where the fire is, and put it out.
According to its analysis of response times, a high rise requires more than 27 minutes to put out a fire, whereas a house only needs seven minutes and 45 seconds. Since November 2020, new structures taller than 11 metres must have sprinklers.
Additionally, the Grenfell Tower Inquiry recommended the use of evacuation alert systems in October 2019 as part of a larger recommendation that high-rise 'Plan B' evacuation plans should be developed in the event that the stay-put advice was unsuccessful.
Its investigation into the night of the fire showed that once firefighters made the decision to leave the building, they lacked the means to quickly raise the alarm.
Despite promises to carry out all of the inquiry's recommendations, nothing has been done in this regard, and a study on high-rise evacuation has not yet published its findings.
Due to the possibility of false alarms, current statutory guidance discourages the use of fire alarms, a problem that would not exist with a manual system intended to be used by firefighters in an emergency.
According to Professor Rein, the lack of sprinklers was "less concerning" than the absence of fire alarms. "Evacuation is such an important layer of protection; if the fire has breached compartmentation, you need to have a way to tell people to get out," he said.
Councils that have not fitted sprinklers or fire alarms told Inside Housing they followed the advice of assessors, who tended not to recommend them, and focused instead on keeping communal areas sterile and improving and repairing features such as fire doors.
For a response, the English government was contacted. In response, Cardiff and Swansea, two local authorities in Wales, said they had collectively installed 12 sprinkler systems in the 20 blocks they own. The sprinkler retrofit in social housing has financial support from the Welsh government.
Visit SOURCE here.
Our eNews provides regular insight into industry trends, news headlines, and product and service information. For news articles parallel to those mentioned above, sign up for our eNews. Click here to sign up: Subscribe to our enews (fia.uk.com)