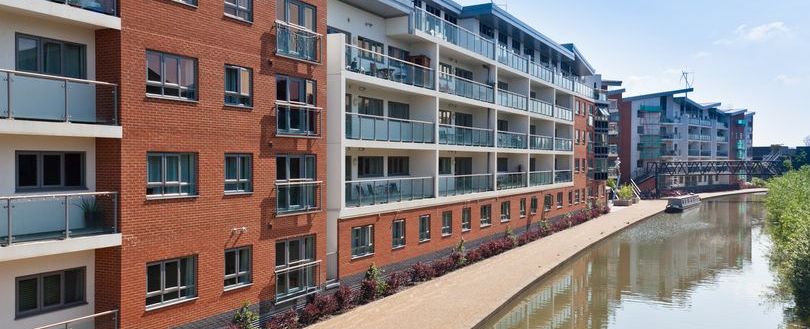 Milton Keynes: Concerns about fire safety mandate waking watch patrols apartments
Following a fire inspection, a 24/7 waking watch patrol is now present in a residential development with about 400 flats that require fire safety improvements.
Until this week, five of the 12 buildings in Milton Keynes' Vizion block had a patrol. Following inspections ordered by Barratt Homes, the surveillance has been expanded to all blocks. According to the creators, they will also transition from a "stay-put" evacuation strategy to simultaneous evacuation. Following the 2017 Grenfell Tower block disaster in London, which killed 72 people, it was determined that hundreds of blocks of flats around the UK need remedial fire safety work.
Residents of the wooden-clad blocks on the corner of Avebury Boulevard in Milton Keynes have been told that the renovation will be paid for by Barratt Homes, which built them. The developer hired a fire engineer to evaluate the structures and initially issued warnings for five blocks.
A letter dated August 4, from Y & Y Management, which manages the block, told leaseholders that based on "new information from Barratts, from their appointed fire engineer" and on "recent advice from fire and rescue services", there would be an "immediate change in the fire exit strategy site-wide". "It has been considered that all blocks at Vizion, excluding Petersfield Green [townhouses in the social housing element across the road], should switch from the "stay-put" evacuation policy to a simultaneous evacuation," the letter said. "Interim measures need to be implemented until the remediation works are completed." The letter added that because there was no central alarm system "a waking watch patrol will be implemented with immediate effect until other solutions are available".
When the cleanup work is finished, the "stay put" policy will be reinstated. The letter does not specify when these renovations will be completed, and Barratt Developments stated that no start date has been set.
One resident, who wished to be known only as Dr Maryam, said she was "unhappy" and the patrols would not help her sell her property. "At the moment, the flat has zero value because of the cladding issue, and that's not fair," she said. "They have found a very easy, temporary solution, but they really need to get on with it and fix the issue. "The fact that they've put this in place now just goes to show that there is a serious problem with this development."
Another resident, Diana Shem, who has rented a flat in the block since March, said the letter "had raised more questions than answers". "They had a 'stay put' procedure to begin with because I believe our doors were fire resistant," she said. "They've decided to change this advice. Why?" Ewelina, who has rented a flat in the block for five years, said the new advice would not make any difference because she would have always tried to get out of her flat in the event of a fire. "Usually I think for myself in a dangerous situation, so even if somebody says to me, Stay home', no, I won't, because my life is more important," she said.
Barratt Developments said that after some "new advice" from its fire engineer, it had worked with the managing agents to extend the interim waking watch to "all of the blocks at the development while investigations continue".
"Barratt will meet all costs," a spokesman said. In a statement, Y & Y management said its new fire safety strategy had "resident safety at the forefront" and the interim waking watch presence was a "proactive measure".
It said it was "committed to providing transparent updates to residents," who would not be financially responsible for the measures. "Through collaborative efforts with Barratt and local authorities, we are expediting the challenging remediation process," a spokesman said. "We empathise with leaseholders and occupants, providing support as they adapt to the new fire safety procedures. "Barratts is running the investigations and funding the project in full."
Our eNews provides regular insight into industry trends, news headlines, and product and service information. For news articles parallel to those mentioned above, sign up for our eNews. Click here to sign up: Subscribe to our enews (fia.uk.com)