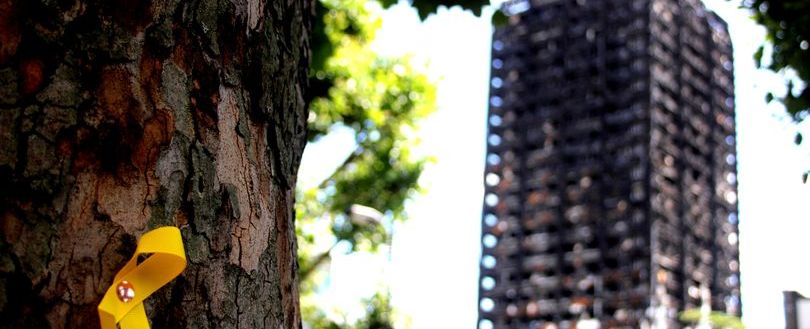 Michael Gove's cladding plans stall as developers refuse new terms
Attempts to remove all dangerous cladding from buildings in the wake of the Grenfell Tower disaster have stalled after developers refused to accept Michael Gove's terms for carrying out the work.
Housebuilders were given until December 9 to sign up to a scheme that would have ensured all Grenfell-style cladding was replaced, but the deadline passed without any of them signing, it has emerged.
Industry bosses have accused Mr Gove of rewriting the contract for the work to be done since he returned to the Cabinet as Housing Secretary, making it far more onerous than one that had been negotiated with his predecessors, Greg Clark and Simon Clarke.
It means that, more than five years after the fire that claimed 72 lives in west London, there is still no agreement on when the work to remove unsafe cladding will be carried out.
The row between housebuilders and Mr Gove centres on who will pay for the work to be done.
The builders say that they should not shoulder all of the costs of the work, because they did not make all of the profits when the buildings were developed. They want suppliers, contractors, architects, overseas developers and investors to share the burden, rather than footing the entire bill themselves.
The builders have repeatedly pointed out that they broke no laws because the cladding that now needs to be replaced was deemed safe under the Government's own regulations at the time it was fitted.
A solution appeared to have been reached under Mr Clark and Mr Clarke, who are understood to have agreed a series of compromises that spread the cost more widely. When Mr Gove returned to the department in October, he reversed some of the compromises, leading to the current deadlock.
The Government has already brought in a Residential Property Developer Tax of 4 per cent on profits made by UK developers with annual profits in excess of £25 million. It is expected to raise £2-3 billion to help pay for the removal of unsafe cladding.
Developers want the Government to levy an additional tax, the Building Safety Industry Fund, which would apply to the entire supply chain and raise an additional £3bn over 10 years.
A total of 49 developers signed an "in principle" pledge to fix the cladding in April, which would apply to buildings constructed over the past 30 years.
However, the Department for Levelling Up, Housing and Communities wants them to sign a legally-binding contract that would place all of the liability for repairs on a single housebuilder, even if they were a minority partner in a development that might have been largely funded by venture capitalists.
The DLUHC also wants to be able to unilaterally update the contract at any time, meaning businesses would effectively be signing a blank cheque to Mr Gove.
The Home Builders Federation has previously described such a contract as "impossible" to sign.
One industry source said: "Developers, like the Government, want a solution for leaseholders which fixes the problem so that they can move on with their lives. However with the latest contract tragedy has turned to farce.
"Mr Gove himself agreed the supply chain needs to be captured when dealing with the cladding issue and with Government at a near standstill over the past few months we've proposed our own solution. This tax would fall solely on the industry, allowing money to be collected swiftly and buildings to be remediated. It's worked in Australia and it can work here."
The Government had originally wanted all of the work to be completed by the end of 2019 for social housing and June 2020 for private properties. Those dates have slipped back at least five years, and Government figures released in the summer showed that 111 buildings with Grenfell-style cladding had still not had the work completed, including 31 where the work had not begun.
Grenfell Tower was clad in aluminium composite material (ACM), which caused a chimney effect on the outside of the building once a fire had started on a lower floor, and proved to be combustible. Thousands of buildings have non-ACM cladding which is also deemed unsafe.
Gove: 'I will take further action in the new year'
Mr Gove said: "We have received developers' final representations on the remediation contract. I will publish the final contract in January, and expect developers to sign it…let me be clear to those developers that do not step up to their responsibilities: I am putting them on notice that I will take further action in the new year. They should do the right thing or face the consequences."
Mr Gove has previously threatened to use legal powers to withhold planning approval for new buildings so that developers would be forced to sign the contract. He has said that developers should not be allowed to "shuffle off their obligations" over cladding.
Housing industry leaders, however, have warned that if Mr Gove tries to bully them into signing the contract they will fight him in court, which could lead to years of further delays before the problems are fixed.
In the meantime people living in unsafe buildings are not only at risk, but are also unable to sell them because banks will not grant mortgages to potential buyers.
The FIA recommends that fire risk assessments are always carried out by a competent, third-party certified organisation. Such organisations can be found on the FIA website.