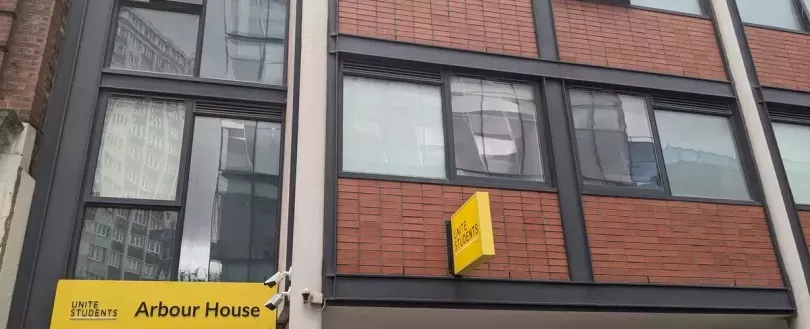 Islington student apartments will eventually have potentially hazardous cladding removed
Unite Students intends to stop fires by removing the flammable cladding from two blocks.
Two student housing buildings in Islington are set to have potentially hazardous cladding removed. In Clerkenwell, close to Pentonville Prison, Unite Students has requested permission to remove the building materials from two seven-story student apartment buildings.
It is the most recent application as companies and homeowners across the nation continue to work to remove cladding from high-rise homes in the wake of the Grenfell Tower disaster in west London in 2017.
Buildings with a height of 18 metres or more had their cladding removed first by property owners. The 15.3-metre-tall Arbour House, which has 73 bedrooms and is located near City University on the junction of Sebastian Street and Goswell Road, is expected to lose its high-pressure laminate (HPL) exterior. Another request is to have the 17 metre-tall Piccadilly Court on Caledonian Road's exterior removed. The University of London and University College London are both 20 minutes walk from the purpose-built building, which was constructed in 2002. A variety of construction materials are used to clad the two structures. Both blocks have been independently validated as safe to inhabit, according to Unite Students' independent evaluation.
According to fire safety reports by fire engineer Amardeep Natt included in the planning application, there was "a high risk of uncontrolled fire spread". At a high level, it was found that the materials forming the external walls, combined with missing and defective cavity barriers and fire stopping, render the building a risk of uncontrolled fire spread and thus a high risk.
A Unite Students spokesperson said: "Fire safety is a critical part of our health and safety strategy, and the safety of our students is always our top priority. We remain committed to leading the sector in improving fire safety by introducing safety processes and features that go above and beyond standard or government requirements, and we have strengthened fire safety measures in place in both of these properties to further prevent fires."
According to Unite Students, safety precautions are in place while the cladding is being taken off. "We have acted swiftly to review all our buildings to make sure they meet the latest fire safety standards. This includes staff members on site 24/7 and increased building patrols. We have also increased measures to ensure early detection, alertness, and response should a fire occur. We will be pursuing claims against contractors."
The company looked at cladding and fire safety remedial work in accordance with government guidelines for building safety in the aftermath of the Grenfell Tower catastrophe. It prioritised buildings 18 metres and higher and found 27 buildings with cladding that required reconstruction.
Additionally, it discovered 11 more that need correction. It is now working on 18 properties while finishing the work at 13 others. According to its mid-year results, it would pay £45.2 million of the remaining £72.3 million cost of finishing remedial measures, including £26.9 million for buildings it owns outright.
It said, "We will ensure we remain aligned to fire safety regulations as they evolve and will continue to make any required investment to ensure our buildings remain safe to occupy."
According to the firm, it constructs homes "in accordance with building regulation requirements, consulting with fire authorities and building control authorities regularly throughout the planning and building process."
The corporation collaborates with the fire department to evaluate these precautions, and buildings have "comprehensive fire alarm systems that are connected to our 24/7 and 365 day per year internal Emergency Contact Centre."
According to the spokeswoman, staff members get training in fire safety management to stop fires. This covers things like routine testing, evacuations, and outreach to locals on fire safety.
Our eNews provides regular insight into industry trends, news headlines, and product and service information. For news articles parallel to those mentioned above, sign up for our eNews. Click here to sign up: Subscribe to our enews (fia.uk.com)