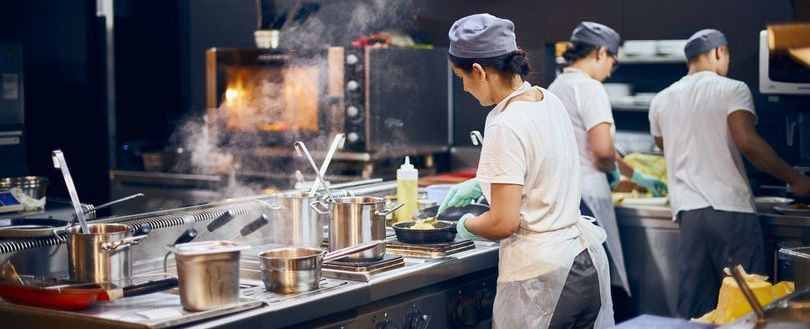 Increase in compliance with vent hygiene regulations as fire safety awareness grows
The necessity of kitchen exhaust ventilation system cleaning and upkeep has "dramatically increased" over the past year. According to the Building Engineering Services Association's (BESA) Vent Hygiene Register, the industry's recently rebranded certification programme.
Since last March, there has been a 78% increase in the number of works reported to the digital Vent Hygiene Register database, and the annual total has now surpassed 21,000 for the first time. More customers, insurers, and fire officers now understand the significance of these systems for the fire integrity of buildings, which has led to a sharp increase.
Every day in a commercial kitchen in the UK, there is at least one serious fire. Owners are now more aware of how to reduce the risk of a fire spreading by improving the maintenance of their grease extraction systems, ventilation, and ductwork.
As a result, the sector's TR19 Grease Specification: Fire Risk Management of Grease Accumulation within Kitchen Extraction Systems is currently being used to clean "thousands more" systems, according to the Vent Hygiene Register.
The Vent Hygiene Register, formerly known as the BESCA Ventilation Hygiene Elite Scheme, has undergone a name change to better reflect the profession's rising profile and to aid in its preparation for official government regulation. The BESA, which oversees its management, is promoting ventilation hygiene as a crucial component of a larger building safety agenda.
The Vent Hygiene Register is meant to be the ventilation hygiene equivalent of the mandatory Gas Safe Register, which in turn transformed the safety of gas installation work in the UK. The London Fire Brigade, which recently updated its guidance for catering establishments to include new measures from TR19, as well as the insurance fire risk organization, the RISC Authority, both acknowledge it.
Unregulated sector
"Despite its central role in building safety, this remains an unregulated sector," said BESA's head of certification, Duncan Sibbald. "The 150-plus members of the Vent Hygiene Register are the professional vanguard pushing the industry towards higher standards and regulatory compliance, which is very much in tune with the culture change being driven by the Building Safety Act 2022."
Sibbald added, "These companies recognise the importance of being able to provide third-party audited evidence to their clients that their kitchen extract systems have been cleaned in compliance with the industry specification."
A Vent Hygiene Register Post-Clean Completion Certificate is provided to members' clients, and it is an essential piece of documentation for any potential insurance claim or fire report.
The Vent Hygiene Register recently won the Best Use of Technology Award at the prestigious Trade Association Awards 2023 for its success in creating and then rapidly expanding its database for notifying compliant cleans.
"Digital technology has helped us to make rapid progress in providing a much-needed way for responsible firms to demonstrate to clients, insurers, and the general public alike that they are working hard to keep people safe in buildings," continued Sibbald. "However, while we're delighted to have passed the 21,000 compliant cleans milestone, we recognise that we still have a very long way to go because tens of thousands of systems out there are waiting to be brought up to standard. Many of them are putting building occupants at considerable risk."
Wider community
It was noted by Sibbald that being more clearly 'part of the wider BESA community' will aid the Vent Hygiene Register in creating a regulated framework linked to the increased transparency, competence, and compliance required of the building services industry in the wake of the Grenfell Tower disaster in June 2017.
"Vent hygiene is about more than just cleaning," concluded Sibbald. "It's also about fire prevention. This message is reaching a much wider audience now, as shown by the surge in the use of our database to register compliant cleans, which is then translating into greater reassurance for clients, insurers, and fire officers."
Further information is available online at www.venthygieneregister.com.
Visit the SOURCE here.
Our eNews provides regular insight into industry trends, news headlines, and product and service information. For news articles parallel to those mentioned above, sign up for our eNews. Click here to sign up: Subscribe to our enews (fia.uk.com)