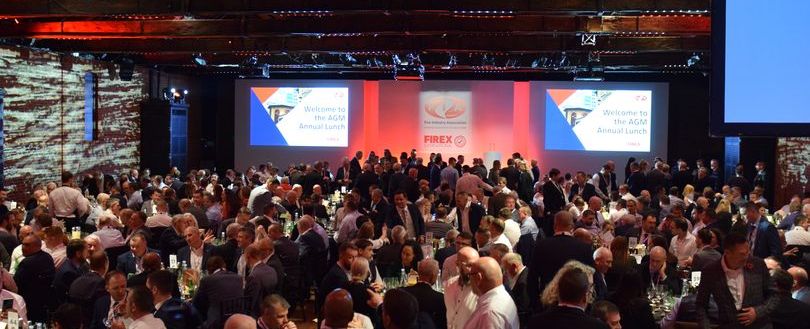 Highlights of the 2022 FIA AGM & Lunch
The 2022 Fire Industry Association Annual General Meeting (AGM) and lunch took place at The Brewery, a beautiful venue in central London that has become the home of the FIA AGM and Annual Lunch in recent years.
Despite the challenges presented in getting to the Brewery with both trains and the Underground causing travel mayhem, this year's AGM and Annual Lunch brought together 500 leading industry figures. Our guests had the perfect opportunity to network with influential figures in our industry as well as catch up and socialise with industry colleagues. With so many high profile people from the fire industry under one roof, this years Lunch was an event not to be missed.
Annual General Meeting (AGM)
Members had the opportunity to hear about the FIA's performance over the last 12 months as well and find out more about key projects we have been working on. Presentations were delivered on several key departments within the FIA; Finance, Training, Membership and Marketing to name a few. In addition to this, members and had the opportunity to ask questions relating to key elements of the Association's work.Annual Lunch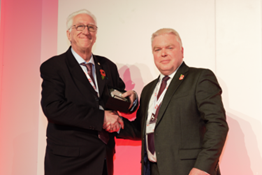 The lunch this year was delightful, a full three-course meal accompanied by the choice of red or white wine. This year's menu was picked by members of the FIA team to ensure our guests had a wonderful dining experience.
Following the delicious three-course lunch the FIA Chairman, Martin Watson, recognised the FIA's exceptional contribution to the fire safety industry. FIA CEO, Ian Moore, then presented our most prestigious award – 'The FIA Lifetime Achievement Award', Colin Todd being the worthy winner. As he collected his award, FIA CEO, Ian Moore cited some of Colin's achievements over his incredibly successful career in the fire industry. Once again, huge congratulations to Colin!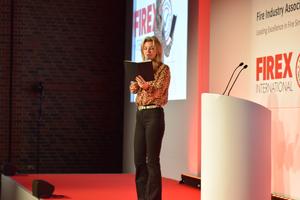 Jo Caulfield provided this year's after-dinner entertainment. The accomplished comedian took centre stage to delight and amuse with an act tailored to the audience. We all enjoyed laughing at the expense of our industry colleagues while Jo picked apart their websites to hilarious effect.
The 2022 FIA AGM & Lunch was brought to the members in association with the industry-leading FIREX International, the world's leading fire safety exhibition.
The election results for the Board and Councils were also announced at the AGM. Here are the newly elected members for the Board and Councils.
FIA Board
| | |
| --- | --- |
| Paul Pope | Global Fire Equipment |
| Robert Campbell | No Climb Products Ltd |
| Donald McFarlane | Honeywell Fire Safety |
| Tony Hanley | Firepro UK Ltd |
FRES Council
| | |
| --- | --- |
| Abby Hannah | Stedfast Inc |
| Alistair Brown | Angloco Ltd |
| Sarah Adamson | Angloco Ltd |
| Tim Wight Le Rossignol | Texport Handelsgesmbh |
Fire Risk Assessment Council
| | |
| --- | --- |
| Harry Wilmot | H E Woolley |
| Iain Bowker | Ensure Safety & Compliance |
| Keith Todd | Ridge and Partners LLP |
| Patrick Collins | Firesec Compliance Ltd |
Fire Engineering Council
| | |
| --- | --- |
| Colin Todd | C S Todd & Associations Ltd |
| Harry McDaid | Ashton Fire Ltd |
| Jason Burgoyne | Pyrolec Ltd |
| Keith Todd | Ridge and Partners LLP |
| Dr Tim Nichols | Associate |
| Tony Leishman | Anstey Horne & Co Ltd |
| Darren Sweeney | Johnson Controls |
| Glen Patrick Thorne | Tunstall Group Ltd |
Extinguishing Council
| | |
| --- | --- |
| Alan Elder | Tyco Fire Protection Products |
| Chris Downing | JCI |
| JCIMark Wheeler | EA-RS Fire Engineering Ltd |
| Guy Middleton | Chubb Fire & Security Ltd |
| Rebecca Fowers | Tyco Fire & Integrated Solutions Uk Ltd |
| Nick Ingham | Angloco Ltd |
Export Council
| | |
| --- | --- |
| Ray Puttock | EMS Radio, Fire & Security Ltd |
| Stuart Mason | C-Tec |
| Andy Spence | Dupre Minerals Ltd |
| Paul Pope | Global Fire Equipment |
| Sarah Adamson | Angloco Ltd |
| Kate Blake | Cranford Controls |
| Alex Stone | Fireco |
| Timothy Wight Le Rossignol | Texport Handelsgesmbh |
Services Council
| | |
| --- | --- |
| David Murfitt | Churches |
| Alex Goodwin | Anderstore Ltd |
| Darren Sweeney | Johnson Controls |
| Paul Daykin | MK Fire Ltd |
| Pete Davies | Fireco Ltd |
| Jim Eccles | Monument Fire & Detection Systems Limited |
| Adam Davies | Trinity Fire & Security Ltd |
Fire Detection and Alarm Council
| | |
| --- | --- |
| Paul Dennis | Sovereign Housing Association |
| Paul Pope | Global Fire Equipment |
| Mike Sutton | Apollo Fire Detectors |
| Simon Flavell | Detector Testers Ltd |
| Colin Arter | Secom |