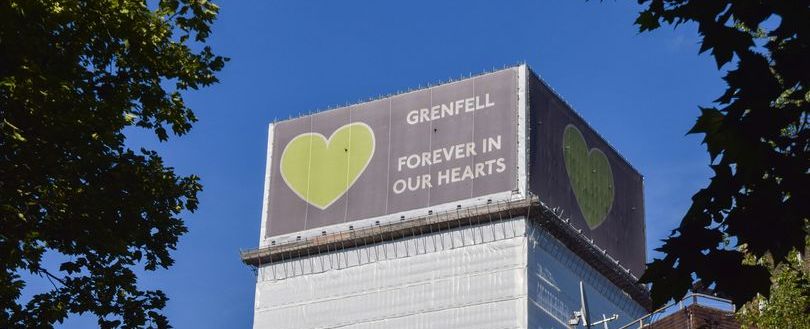 Grenfell fire: Housing developers given ultimatum to fix unsafe buildings
England's housing developers have been given an ultimatum - commit to repairing unsafe buildings or be banned from operating in the market.
Developers now have six weeks to sign a government contract to fix their unsafe buildings from the past 30 years.
Housing Secretary Michael Gove says companies will "face significant consequences" if they do not comply.
Many homeowners have been forced to spend thousands to remove cladding which has been deemed a fire risk.
The dangers were made public after the Grenfell fire tragedy in 2017, which killed 72 people. An inquiry found that cladding installed on the tower block in west London helped the fire spread because it was made from combustible material.
According to the government's new plan, homeowners living in buildings whose construction poses a potential fire risk will be reimbursed, and building companies who installed the unsafe cladding must pay to replace it with a safer material.
"Too many developers, along with product manufacturers and freeholders, have profited from these unsafe buildings and have a moral duty to do the right thing and pay for their repair," Mr Gove said, in a press release.
Speaking to BBC News, Mary-Anne Bowring, group managing director at residential property consultancy, Ringley Group, questioned the "fairness" of the development industry being forced to bear the cost, especially after "the government is partly to blame" for the problem. She added that the entire industry should not be forced to pay for "individual bad actors".
But Ms Bowring added that she "felt relieved for leaseholders who have been in limbo for years" as they waited for help to make their homes safer following the Grenfell Tower tragedy.
The government has spent five years, and billions of pounds, trying to fix problems revealed by the Grenfell Tower fire.
Hundreds of modern buildings were discovered to have materials which posed a fire risk, including flammable cladding and insulation.
On Sunday, Mr Gove admitted that the government's building regulations were "faulty and ambiguous" and had not sufficiently regulated the industry.
It comes after an acknowledgment in December 2021 at the Grenfell inquiry that, in general, the government had failed to regulate the industry.
However, in an official apology to bereaved families at the Grenfell inquiry, as well as in public statements, ministers have made clear they believe significant blame lies with those building companies which used products known to perform poorly in fires.
People living in thousands of flats are facing huge bills to have the dangerous materials removed,and the value of many such flats has plumneted. well as the building companies' contributions, a further £2bn will be committed to buildings which are 11 metres or higher by the Department for Levelling Up, Housing and Communities. Additionally, £3bn will be contributed to a new Building Safety Levy.
The contract put forward on Monday will also require developers whose buildings have already been made safe using public money, to pay it back to the government.
To finish reading the full article, visit the SOURCE here.
Our eNews provides regular insight into industry trends, news headlines, and product and service information. For news articles parallel to those mentioned above, sign up for our eNews. Click here to sign up: Subscribe to our enews (fia.uk.com)