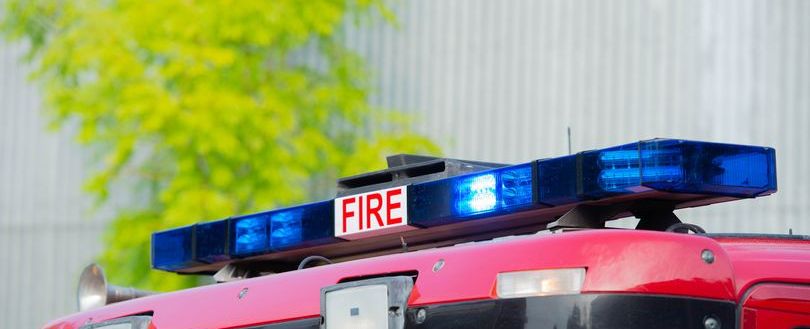 Glenrothes high-rise residents' fears over fire service cuts
Due to planned budget cuts for the Scottish Fire and Rescue Service, residents of high-rise buildings worry that their rescue times will grow longer.
Reducing the number of appliances at stations in Tayside, Fife, and Glasgow has raised concerns.
Currently, a high-rise fire in Scotland requires the safe attendance of four engines.
Some of the impacted stations would have just one appliance remaining after the suggested cuts.
Since having a stroke a number of years ago, Stuart McIntosh has been dependent on his mobility scooter.
He and his wife Catherine live on the 12th floor of the Glenrothes Raeburn Heights complex.
The Fife town would be one of the stations left with just one appliance under the current arrangement.
According to Stuart, who is disabled, "I would definitely need someone to help me get down the stairs because I can't get back down without using the lift."
Of course, that is where the fire department is needed.
Catherine added, "It's concerning for Stuart and for us because we have spoken about it.
"But also for other residents who are not able-bodied."
As part of the restructuring, four stations in Fife will lose an appliance as the service attempts to save £11 million this year.
Christine Proudfoot, a resident of Raeburn Heights and a member of the residents' association, wonders where the extra appliances will come from in the event of a fire.
"We have people who are housebound and wouldn't be able to do anything," she said.
"And we understand that with just one fire engine being located here in Glenrothes, they would need to wait for another one."
Steven Reid, a Fire Brigade Union (FBU) representative and firefighter based in Glenrothes, shares the residents' concerns.
He said: "If we were left with one appliance, our backup is going to be about 15 to 20 minutes away, and that's only if they're available.
"That first sort of 15 to 20 minutes at an incident are usually the most crucial point."
According to the Scottish Fire and Rescue Service, units responding to high-rise fires in Scotland have always been dispatched from multiple stations.
The organisation stated that the quantity of appliances they will send to a high-rise incident won't change.
According to the FBU, the cuts will also have an impact on nearby towns and villages, leaving smaller stations unprotected in the event of a fire.
With two significant fires at the Shore Recycling facility and the New County Hotel since the year's beginning, Perth is another station impacted by the cuts.
Firefighter and union representative David Evans, who works in Fair City, thinks the reduction will impair their ability to respond to fires quickly and safely.
"There's going to be a big lag in getting appropriate resources for a fire, a car crash, or a flooding incident," he said.
"We can't have anything other than a reduction in safety for the public and for firefighters responding."
Temporary reduction
The reduction, according to the Scottish Fire and Rescue Service, is only temporary.
David Farries, director of service delivery, said: "Following a review, starting in September, we are temporarily removing up to 10 appliances from locations where we know there will be the least impact on services.
"These are second or third appliances, which can at times be unavailable for a number of reasons."
The changes would be monitored and evaluated, he added.
Our eNews provides regular insight into industry trends, news headlines, and product and service information. For news articles parallel to those mentioned above, sign up for our eNews. Click here to sign up: Subscribe to our enews (fia.uk.com)