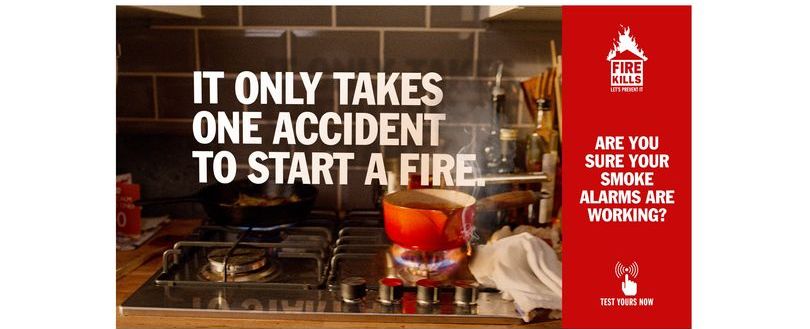 Fire Kills campaign. Help us to reach as many people as possible
NFCC and the Home Office have been working in partnership to plan the media advertising for the Fire Kills campaign for England in 2021/22. During February and March 2022, a TV advert supported by radio, video and digital content will highlight known fire risks including candles and leaving cooking unattended – demonstrating that it only takes one accident to start a fire.
The campaign is based on audience research and partner feedback and encourages households in England to test their smoke alarms regularly. This year the campaign also addresses the need for the correct placement of smoke alarms. This aims to address the risk that smoke fails to reach a working smoke alarm due to its positioning, or that there are not enough in the home. In keeping with previous campaigns, the aim is to reach vulnerable individuals, such as older and disabled people, as research shows they are at greater risk from accidental fires.
FIA supports the initiative and we would appreciate it if with your support we can reach as many people as possible.
Is your home safe?
In the year ending June 2019, 215 people lost their lives due to a fire at home.
You are around 8 times more likely to die from a fire if you don't have a working smoke alarm in your home.
Would your smoke alarm save you?
Get the facts:
working smoke alarms correctly positioned in your home can save your life
make sure you test your smoke alarms at least once a month
make sure you have smoke alarms on every floor of your home, including in each bedroom
do not put a smoke alarm in a kitchen or bathroom
don't ever paint over a smoke alarm
have a plan for how you'd leave your home if your smoke alarms go off, and make sure everyone in your home knows what it is
Did you know?
cooking fires are the main causes of fire in the home
every 6 days someone dies in a fire started by smoking materials
two accidental dwelling fires a day are started by candles
faulty electrics cause about 4,000 fires in the home each year
Fire safety
Watchvideo - Video from YouTubeFire safety (audio described video version)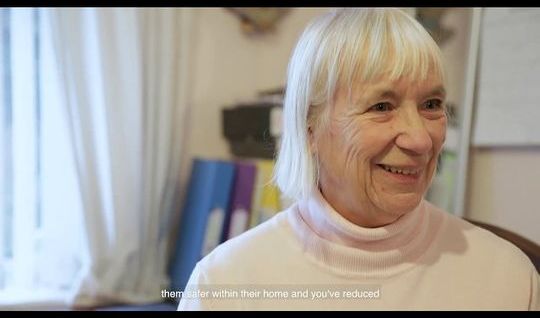 Cut the risk of fire in your home
never leave children in a kitchen cooking unattended – ideally, always stay in the kitchen
do not pour water onto hot fat
keep electrical appliances clean and in good working order to prevent them triggering a fire
use plugs safely – too many in one socket can start a fire
when you finish a cigarette make sure it is right out – take special care when putting out cigarettes on balconies – just because you are outside doesn't stop a fire starting
put candles in a holder and keep them away from things that may burn – never leave them burning when you're not in the room
a lot of fires start at night – do some checks before you go to bed
Download the guides to staying fire safe in the home.
By working together, we can all help prevent the risk of fire.
Do you care for an elderly or disabled person?
help test their smoke alarms
make sure their smoke alarms are fitted in the correct places
want more advice – ask your local fire and rescue service if they can offer advice on fire safety in your home – they may be able to carry out a home fire safety visit
Do you live in a high rise flat?
your landlord or managing agent must take steps to prevent fires breaking out in the communal areas and to protect escape routes
they should tell you what to do if a fire breaks out – make sure everyone in your household is aware of the fire safety procedure
you should take steps to prevent fires from starting in the first place
you must make sure you have enough working smoke alarms in your home
let your landlord or managing agent know if you need help to evacuate or are unable to hear a communal fire alarm
keep the common areas clear, and protect the escape routes from obstruction
contact your landlord or managing agent for more advice – or your local fire and rescue service for a home fire safety visit