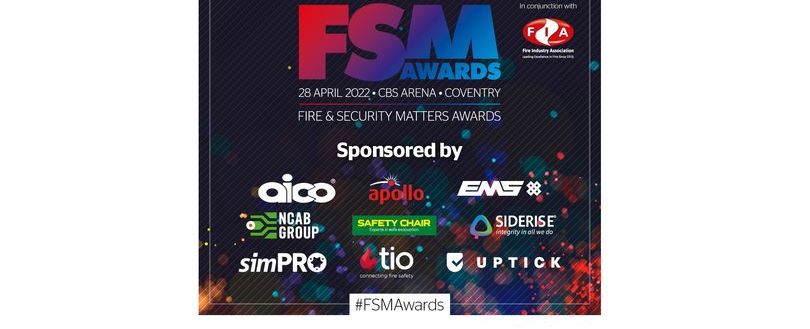 Fire and Security Matters 2022 Awards - shortlist revealed
The shortlist has been released for the inaugural Fire & Security Matters Awards after receiving more than 200 entries.
The Fire & Security Matters Awards (FSM Awards) are organised in conjunction with the Fire Industry Association.The FSM Awards recognise excellence and innovation in the fire and security sectors. T
The winners of the Awards will be revealed at a gala dinner and ceremony to be held at the Ricoh Arena in Coventry on Thursday 28 April 2022, which will be hosted by popular impressionist and comedian Alistair McGowan. T
Tickets are now on sale for this must-attend event and cost £199+VAT each or £1,800+VAT for a table of 10. You can get your tickets now here.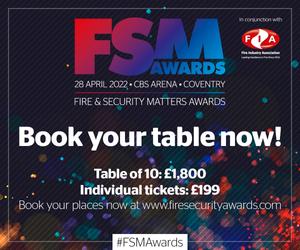 The Fire and Security Matters Awards are being supported by a number of key industry bodies including BAFE, the Institute of Fire Safety Managers, the National Association of Healthcare Fire Officers, the Independent Fire Engineering and Distributors' Association, The Security Institute, the National Security Inspectorate, the Security Systems and Alarms Inspection Board, ASIS UK, the Institute of Strategic Risk Management and the International Foundation for Protection Officers.
The shortlist for the FSM Awards 2022 is as follows:
Fire Safety Systems Manufacturer of the Year – Sponsored by NCAB Group
Aico
Advanced
C-TEC
Evac+Chair
Kentec
Bandweaver Technology
Hochiki Europe
Global Fire Equipment
Apollo Fire Detectors
Siderise Insulation
Hyfire
Safety Chair
Fire Innovation of the Year
Advanced
Colin Todd
Reacton
Fireclass
Firexo
Fireangel
Tio Fire Safety
EMS
CSL
Patol
Profab Access
Tenmat Ltd
MAF Associates
Fire Safety Team of the Year – Sponsored by EMS
Anstey Horne
Greater Toronto Airports Authority
Alder Hey Children's Hospital NHS Trust
Securitas UK – Fire Service College
Firexo
Royal Borough of Kensington and Chelsea
The Institute of Fire Safety Managers
Leeds Teaching Hospitals NHS Trust
Frimley Health NHS Foundation Trust
Hertfordshire Fire & Rescue Service
The University of Edinburgh
Fire Safety Project – Sponsored by Safety Chair
Amazon EU
CLM Fireproofing
University of Leeds
FirePro UK Ltd
Plumis Ltd
Solid State Security
Southampton City Council
Hertfordshire County Council
Hochiki Europe
Dr Tony Cash & Associates Ltd
MCFP Ltd
Charles Thomas Heritage Fire Protection
Emergency Evacuation Equipment and Training (3ET) Ltd
Fire Safety Manager of the Year – Sponsored by Tio Fire Safety
Gary Jarvis – Securitas UK
Aftab Parwaz - Alder Hey Children's Hospital NHS Trust
Robert Scott - Scott Castle
Neville Tomblin - Southampton City Council
Keith Todd - Royal Borough of Kensington and Chelsea
Steve Dilloway - Veritas Fire Support Services
Badar Kareem - Gerry's dnata
Fire Systems Installer/Integrator of the Year – Sponsored by Apollo Fire Detectors
Jamie Dawson - Gemini AMPM Ltd
Sam Malins - Fireward Automatic Fire Suppression
Lifetime Achievement Award – Sponsored by Siderise
Winner to be announced on the night!
Security Manufacturer of the Year
Assa Abloy Opening Solutions
AMAG Technology
Azena
Bandweaver Technology
Partizan Security
IDIS Europe
CSL
Todd Research Ltd
Security Guarding Company of the Year
Anubis security
STM Group (UK) Ltd
CIS Security Limited
TLG Facilities Management Ltd
Ward Security
SecuriGroup Ltd
Magenta Security
Mitie Security
Security Installer/Integrator of the Year – Sponsored by SimPro
Christian Watts – Mitie
James Talbot - BAC Fire & Security Ltd
National Contracts Team - Tailored Fire and Security Group Ltd
Security Team of the Year – Sponsored by Assa Abloy
OCS Group Limited
CIS Security Limited
Here East Security
Sainsbury's Security Operations Centre - Crime Intelligence Team
Mitie/B&Q Detective Team
Brooknight Security
Eboracum UK Ltd
Amberley Security
Securitas Intelligence Unit
Carlisle Support Services
Leeds Teaching Hospitals NHS Trust
Mitie/Sellafield - Civilian Guard Force Shift Managers
Security Project of the Year
RAF Air Cadets
BSIA ECHO Project
Securitas Intelligence Unit
Reliance High-Tech and the Natural History Museum
Mitie & HMRC Partnership
Partizan Security
SecuriGroup Ltd
Assa Abloy Opening Solutions
Ajar Technology - Drop Gym Project
VPS UK Ltd – MoD Defence Infrastructure Organisation
Mitie Security - Co-op 'MY Safety'
International Foundation for Protection Officers with Ethos Farm
Mitie Vaccine Security Audit

Security/Risk Manager of the Year
Dan Reed - STM Group (UK) Ltd
Paul Gomersall – Securitas
Glen Hughes - VPS UK Ltd
Samantha Lang - SecuriGroup Ltd
Ross Harvey - Fuse Systems
Mark Taylor - Mitie Security
Phil brewer - Brooknight Security
Victoria Ogbuehi – Coca Cola
Pauline Dinis - SecuriGroup Ltd
Russell Keddie - Mitie Security
James Fay - Keystone Fire Safety LTD
The FSM Awards are organised by Western Business Media, which also publishes Fire Safety Matters and Security Matters magazines. Commenting on the shortlist, Western Business Media CEO Mark Sennett said: "We've been blown away by the amount and also the quality of entries we received. Having launched awards events before, we've never seen this many entries for inaugural awards. The fire and security sectors have truly embraced these awards and it's fantastic to see so many people keen to recognise the key role they play in keeping people and property safe.
"I'd like to thank the judges for volunteering their time to be part of this process and I'd also like to thank the 200+ organisations who took time to enter. We look forward to seeing everyone on 28 April 2022 at the CBS Arena for the awards ceremony. It will offer a great night of entertainment and bringing people together after so long apart."
Tickets are now on sale for FSM Awards 2022 and cost £199+VAT each or £1,800+VAT for a table of 10. You can get your tickets now Here