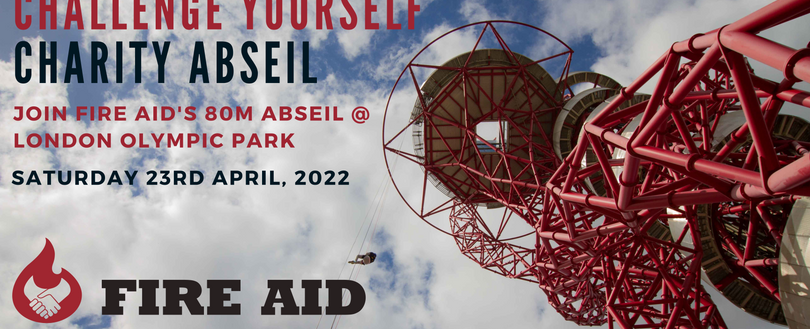 Join Fire Aid's 80m Abseil at London Olympic Park on Saturday 23rd April 2022
Come and join Fire Aid on 23rd April 2022 from 2pm onwards as volunteers will be tackling an 80m abseil. Volunteers will be abseiling in groups of 5. From start to finish (including all the safety talks) each group of 5 will take around an hour.
Each volunteer will be required to raise £250 for FIRE AID – this will cover the cost of the event plus around £100 per person into FIRE AID funds for projects to Lebanon, Tajikistan and/or Ghana during 2022. The easiest way to fundraise is via a JustGiving page which is connected directly to FIRE AID.
To do this follow this link: https://www.justgiving.com/FireAidandInternationalDevelopment - then click Fundraise for us.
Otherwise the full amount can be paid via our online giving page if paying in one go: https://cafdonate.cafonline.org/10624#!/DonationDetails#%2FDonationDetails
Sign up and contribute to the fantastic work of Fire Aid.
---
A little more about Fire Aid:
When Fire & Rescue Services throughout the UK & modern world replace their fire engines and equipment, it is still of a quality that can go on and continue to be used in other less fortunate countries, to save lives from fires, road accidents and disasters and protect the firefighters themselves.