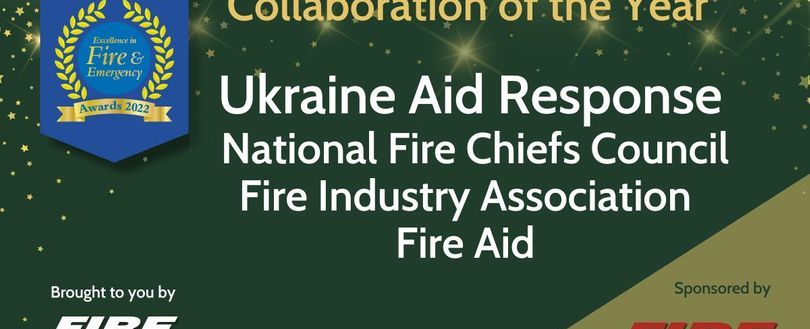 The Fire Industry Association, along with the National Fire Chiefs Council (NFCC) and Fire Aid, have been named winners of the Collaboration of the Year award for Ukraine Aid Response.
As the war between Russia and Ukraine raged, the FIA (Fire Industry Association) and other partnerships stood by Ukraine. The Ukrainian people have shown courage and resilience that should inspire everyone, and we are proud to have supported them and continue to do so.
"The whole of the Fire Industry has come together to support the UK deployment of aid through Fire Aid, our charity partner. It has been both an honour and humbling experience to be part of a truly collaborative humanitarian response from the UK. We are incredibly proud of our sector for their determined and unified effort to help the Fire Fighters of Ukraine. " Ian, Moore, CEO FIA states.
The UK fire and rescue services donated 69 fully equipped fire appliances as well as tens of thousands of items of life-saving kit and equipment to FIRE AID (the FIA's supported charity).
Aswell as this, there were 8 fire appliances (driven by Fire and Rescue Service volunteers), a four-by-four vehicle, hydraulic cutters, a range of PPE (including helmets, clothing, boots, and eye protection), ladders, radios, dry suits, inflatable boats, and generators also being among the items of kit donated.
A wide range of equipment has been donated, either due to being replaced or because Fire and Rescue Services have the capacity to do so. Each vehicle is tested and serviced before a convoy sets off, and all kit involved is in good working order.
Since 2015, Fire Aid has been working with the Ukrainian Fire Service to improve life safety. Read the following for a brief history of FIRE AID's work with Ukraine: -
it has trained more than 200 Ukrainian firefighters during hundreds of hours' worth of professional training.

has donated nine fully equipped emergency response vehicles and hundreds of sets of Personal Protective Equipment (PPE). The vehicles donated were a massive improvement on their current vehicle stock, where some vehicles are over 40 years old.
has donated a road traffic-training car to the Lviv State University of Life, the country's national fire-fighting training school. The transformer car is a reusable training simulator originally funded by UK-based fire industry suppliers, amongst them FIA member Vimpex. It allows instructors to demonstrate life-saving extraction techniques without destroying the structure of the car. In 2020 this car was used in a demonstration to the President of Ukraine.

has donated 12 road traffic collision sets, which were distributed to 10 fire stations across the Zhytomyr region, which has several major ro roads passing through it. Local firefighters were particularly impressed with the new extraction techniques demonstrated alongside the equipment donation.
We are extremely honoured to receive this award, and we are incredibly grateful to the fire industry for the 22-vehicle convoy that they provided to Ukraine so quickly. It was the largest donation of fire and rescue equipment from the UK ever.
If you wish to contribute, to fund to this, you can help by donating to Fire Aid here.