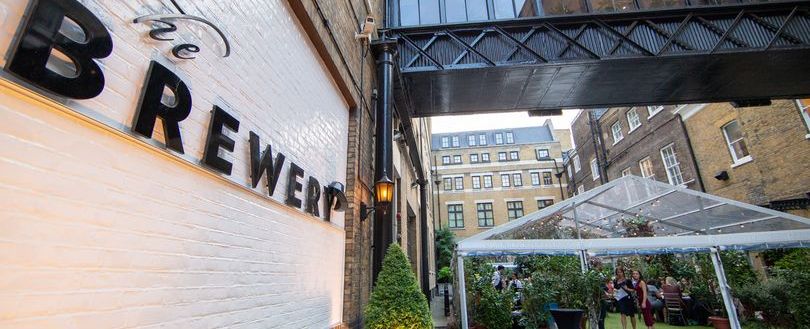 FIA AGM Annual Lunch – What We've Got Planned
Our 2022 FIA AGM Annual Lunch will be held on Thursday 10 November, at The Brewery in London, a stunning 18th-century brewery that has been transformed into one of London's leading events venues. Here's what we've got planed.
Networking:
Join over 450 of the fire industry's leading figures for unrivalled networking opportunities at this year's AGM Annual Lunch. Take advantage of our welcome drink's reception before the Annual Lunch. Enjoy free drinks and canapes while you catch up with industry colleagues and grow your network. There will also be further opportunities to network after the meal.
Who Will Be There:
| | | |
| --- | --- | --- |
| Advanced Electronics Ltd | Eastern Extinguishers Ltd | Mitie Security Ltd |
| AF-X Fireblocker UK Ltd | Elmdene International Ltd | NCAB Group UK |
| Aico Ltd | EMS Radio, Fire & Security Ltd | No Climb Products Ltd |
| Ampac Europe Ltd | Ensure SC | Patol Ltd |
| Angloco Ltd | Eurotech Fire Systems Ltd | PHF Electrical |
| Apollo Fire Detectors Ltd | Facet Technical & Resource Solutions Ltd | Platinum Fire Solution Ltd |
| Aurora UK Group Ltd | Fire Eater (UK) Ltd | Protec Fire Detection Plc |
| A W Hainsworth & Sons Ltd | Fireco Ltd | Protect & Detect Systems Ltd |
| Britannia Fire Ltd | Firepro UK Ltd | Safety Technology International (Europe) Ltd |
| Call Systems Technology Ltd | Fisk Group | Technifire Solutions Ltd |
| Chubb Fire & Security Ltd | Global Fire Equipment / GFE (UK) Fire Ltd | Trinity Fire & Security Systems Limited |
| Cold Cut Systems Ltd | Honeywell Fire Safety | TripleAconsult trading as Triple A Solutions |
| Complete Detection Systems Ltd | Illumino Ignis Ltd | Tyco Fire Protection Products |
| Consort Insurance Ltd | Informa | Uptick PTY Ltd |
| Coopers Fire Ltd | Jactone Products Ltd | Vimpex Ltd |
| C-Tec | KBO Fire & Security | Wagner UK Ltd |
| Dupre Minerals Ltd | Kidde Products Ltd | Western Business Media |
| Eaton Electrical Products Ltd | Llumarlite Ltd | Xtralis |
| EA-RS Fire Engineering Ltd | Meridian Technical Services Ltd | 3M United Kingdom PLC |
Lunch:
Enjoy a delicious three-course-meal and complimentary wine for the table. Socialise with your work colleagues or entertain and impress your clients and customers. During the lunch there will also be an awards ceremony as well as hilarious entertainment from this year's comedian.
Comedian:
We are incredibly excited to announce that Jo Caulfield will be providing the entertainment at this year's AGM Annual Lunch!

A stand-up comedian, host and comedy writer, Jo Caulfield has worked on some of the biggest shows and with some of the biggest names in British comedy. She has appeared on the likes of Mock The Week, Never Mind The Buzzcocks and Michael McIntyre's Comedy Roadshow; and has her own Radio 4 shows, It's That Jo Caulfield Again and Jo Caulfield Won't Shut Up
Agenda:
12.00-13.30 Drinks reception
13.30-15.00 Lunch
15.00-16:00 Award presentations and after dinner speaker
AGM Advertising Opportunities:
During the AGM Dinner, there are multiple TV screens located in the rooms on which we are opening up the opportunity for our member companies to advertise.
Over a 2-hour lunch period, we are releasing a total of 75 minutes' worth of advertising time on a first come first serve basis. This means that during the AGM dinner, your 30-second advert will display on rotation depending on the number of ad slots you purchase (5, 10 or 15). These ads can be static or include video, however, audio is not available.
Additionally, if you purchase advertising and are also attending the dinner, you will obtain a discount on your dinner tickets.
If you would like to receive a quote or book advertising please contact our commercial manager Chris Tilley directly at [email protected]