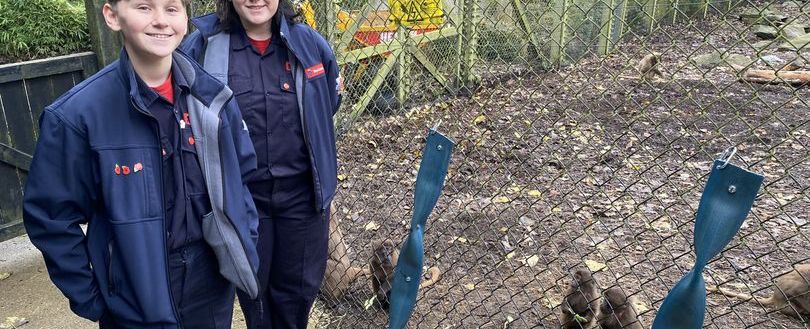 Essex Fire Service's green initiative: old fire hoses find new purpose at Colchester Zoo
In a heartening collaboration between Essex County Fire and Rescue Service and Colchester Zoo, old fire hoses have been given a second life as toys, hammocks, and feeding tools for the animals.
Image Credit: Essex County Fire and Rescue Service.
For the past 15 years, the fire service has been donating its retired hoses to the zoo, where they are repurposed for the enrichment of various animals, from Gelada Baboons to elephants, rhinos, and otters.
The initiative aims not only to support a local business but also to contribute to environmental sustainability by repurposing materials that would typically end up in landfills. Kelly Hand, Visitor Experience Host Co-Ordinator at Colchester Zoo, expressed gratitude for the long-standing partnership, noting that the fire hoses provide a durable and versatile material for creating different forms of enrichment.
Last week, two fire cadets from Dovercourt Fire Station, Jorje and Zak, actively participated in the initiative, crafting a series of puzzle feeders from a 25-meter hose reel for Gelada Baboons. The cadets then hung the toys in the baboon enclosure, observing the animals joyfully engaging with their new additions.
Jorje shared his excitement, saying, "The animals really enjoyed the toys, and it was great to see them all excited. You can use our old hoses to make toys for any animal here, really. You can make literally anything like benches, hammocks, walls, etc." Meanwhile, Zak highlighted the educational aspect, mentioning their plans to share their newfound knowledge with their cadet unit, aiming to create more toys from old fire hoses for future donations.
Essex County Fire and Rescue Service recognizes the positive impact of this initiative on both the local community and the environment. David Rogers, Supplies Officer at the fire service, has been delivering fire hoses to the zoo for approximately 15 years. He expressed satisfaction in seeing the hoses repurposed for a good cause and commended the creativity of the zoo team in utilizing the tough and durable material.
The fire hoses, which would typically be discarded after their working life, find new purpose at Colchester Zoo, contributing to the welfare and enrichment of its diverse array of residents. This sustainable initiative not only aligns with environmental goals but also fosters a positive relationship between the fire service and the local community. As Jorje and Zak continue their journey as fire cadets, their contribution to this eco-friendly endeavor serves as an inspiring example for future generations in Essex.
View the SOURCE here.
Our eNews provides regular insight into industry trends, news headlines, and product and service information. For news articles parallel to those mentioned above, sign up for our eNews. Click here to sign up: Subscribe to our enews (fia.uk.com)