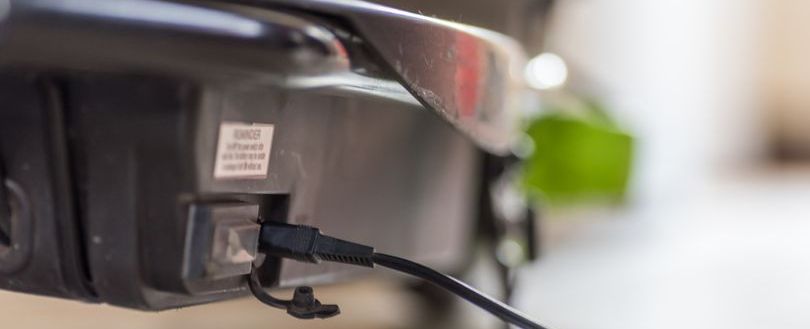 E-bike and e-scooter fire rescues over Easter weekend prompt warning from firefighters
Three rescues after e-bike and e-scooter fires across London over Easter weekend has prompted a warning from firefighters, as cases spike this year.
London Fire Brigade (LFB) rescued a man from a home in Dalston after a converted e-bike caught fire in the early hours of Sunday.
Half of a staircase was damaged in the property on Middleton Road, and a man was treated for smoke inhalation. Another person escaped the house before firefighters arrived.
On the following day, two men had to be led to safety down an internal staircase after a smoking e-scooter caused a blaze on the ground floor of a three-storey house in Streatham. A woman and three children left the property before firefighters arrived.
The two incidents have prompted renewed calls over the danger of charging lithium batteries inside homes.
In 2023, e-bike and e-scooter fires have jumped by 60 per cent compared to the same time last year, equating to one fire callout every two days, the London Fire Brigade said.
Deputy Commissioner Dom Ellis said: "Investigators believe a converted e-bike caught fire at the house in Dalston and we understand the bike's batteries were purchased online second-hand.
"The bike was on charge at the time and due to where it was being charged, blocked an escape route and a man had to be rescued by our firefighters via a short extension ladder.
"It is vital that you never block your escape route with anything, including e-bikes and e-scooters. And the only way to be sure of a legal, safe and reliable e-bike is to buy one in complete form, from a trusted and reputed retailer.
"Meanwhile, at the incident on Barrow Road, a smoking e-scooter was moved by an occupant from a room to a communal area of the house where the fire then spread.
"Moving the scooter significantly increased the risk to everyone inside the house and reaffirms our advice, which is if you suspect there is a fire involving these types vehicles, leave it, shut the door, get out and call 999."
Firefighters were called to more than 150 blazes caused by e-bikes and e-scooters in London in a little over a year.
Figures obtained by the Standard reveal that the LFB was called 87 fires related to e-bikes and 29 caused by e-scooters.
According to data collected by LFB, most people injured in e-bike and e-scooter fires are in their 20s. Often the fires are in homes where multiple adults are living together without children.
"The most risky time for e-bike and e-scooter fires to take place is when charging lithium batteries," the LFB warned.
"This is the time that batteries are most likely to fail."
Cheaper batteries bought online may not meet UK safety regulations. DIY installations can also lead to damage of the kit, increasing the chances of battery failure and a fire.
Lithium batteries store a significant amount of energy in a very small space and are much more powerful compared to other types of batteries.
If that energy is released in an uncontrolled way, then a fire or explosion may result.
If there is overheating, crushing, penetrating or overcharging, then a fault can occur within damaged battery cells which may cause the battery to catch fire and/or explode.
To finish reading the full article, visit the SOURCE here.
Our eNews provides regular insight into industry trends, news headlines, and product and service information. For news articles parallel to those mentioned above, sign up for our eNews. Click here to sign up: Subscribe to our enews (fia.uk.com)