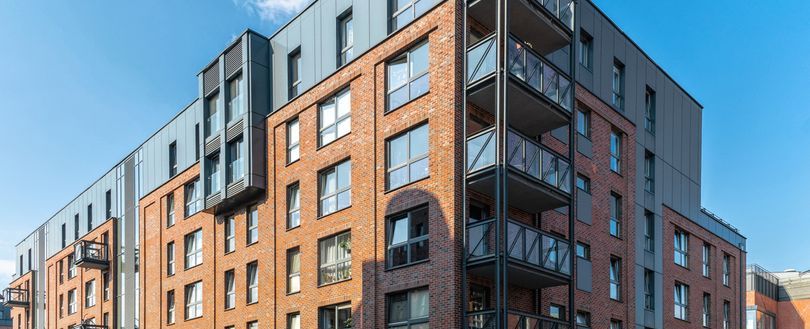 Colchester residents moved into an unauthorised fire trap at the Amleen House
The BBC has learned that tenants were relocated into a new apartment complex despite the fact that it had not been certified as a secure place to live.
Amleen House in Colchester had its residents evacuated quickly in June due to concerns that the fire might "spread quickly and uncontrollably." According to the authorised building inspector, it was opened without a final certificate. Owner Sukhdev Singh Ghotra refuted this and said he was getting in touch with the inspector to get more details.
Amleen House was shut down by Essex County Fire and Rescue Service (ECFRS) due to the "potential for rapid internal fire spread." The service claimed that it had been occupied for a year before issuing its prohibition notice on June 26. According to ECFRS, safety flaws at Amleen House included improper fire door installation and a lack of intumescent strips, which would expand in the event of a fire, block gaps, and stop spread.
Additionally, it turned up two lift passageways that were covered in boarding that was insufficiently fire-resistant and had no lifts installed. The majority of the 125 residents, who were described as being "deeply shattered," were foreign students from Essex University. The BBC attempted to contact ten of them, but they all declined to be interviewed.
A few of the residents weren't students, and Colchester City Council found that some of them weren't entitled to assistance under its obligation to prevent homelessness. These people, which included young children, have since left the emergency housing, but it is unknown where they are now.
The city council's housing portfolio holder, Paul Smith, said it was a "scandal that people's lives had been put at risk". He said: "I can't comment on individual cases, but, for example, you may not be eligible if you entered the country on a tourist visa or if you had sufficient assets to provide for your own accommodation." Mr Ghotra, via his lawyer, said it was not the case that some of the tenants were in the UK on a tourist visa and that he "retains documentation from the tenants confirming their status".
According to documents posted on the council's planning website, Mr Ghotra's Rootstar Constructions Ltd. built Amleen House. The authorised inspector was Stroma Building Control, a different business.
A spokesman for Stroma said it was "very concerned that the property was occupied without having passed all necessary checks and without a final building control certificate having been issued". He added: "We were not informed at any stage by the building owner or developer of any intention to occupy the building. Having been made aware that the non-complete works had been occupied, we formally notified the building's owner and the local authority that the initial notice for the works ceased to be in force."
The lawyer for Mr Ghotra stated that his client did not admit to breaking any laws and that he was unable to respond until he had obtained from Stroma a complete copy of its file "in order that I can advise my client as to the nature by which Stroma Building Control undertook its duties."
The Health and Safety Executive (HSE) deemed the construction site unsafe while Amleen House was being built, the BBC has learned. Due to "ineffective arrangements in place for planning, managing, and monitoring health and safety during the construction work," Rootstar Constructions was issued an improvement notice.
An HSE spokesman said, "An inspector visited it in March 2021. A number of health and safety breaches were found, and all work on the site was stopped. An Improvement Notice was issued; this demanded the appointment of an appropriate professional that would better help keep people safe during the construction phase." The notice was complied with.
ECFRS states that the owner, agent, or responsible party must hire either the local authority's building control or an approved inspector when a new building is in the planning stages. After that, they will inspect the work to ensure that it is being done in accordance with the plans.
The fire service then has 15 working days to comment and ensure all safety precautions are in place. A spokesman said, "It appears that this part of the process was not done correctly in this case, resulting in the building not showing in our database."
One of Mr Ghotra's other companies, GAJ Homes, was named on the prohibition notice as the "responsible person" for the building.
However, it is unclear why the tenants were permitted to occupy the space before the building received certification. The tenant was introduced to Mr Ghotra by "letting agents and word of mouth," according to Mr Ghotra's representative. According to Essex University, "Our staff visited the site with fire officers so we could immediately inform students about the support we could offer and gave close to 100 people—including several families—somewhere safe to stay."
Our eNews provides regular insight into industry trends, news headlines, and product and service information. For news articles parallel to those mentioned above, sign up for our eNews. Click here to sign up: Subscribe to our enews (fia.uk.com)