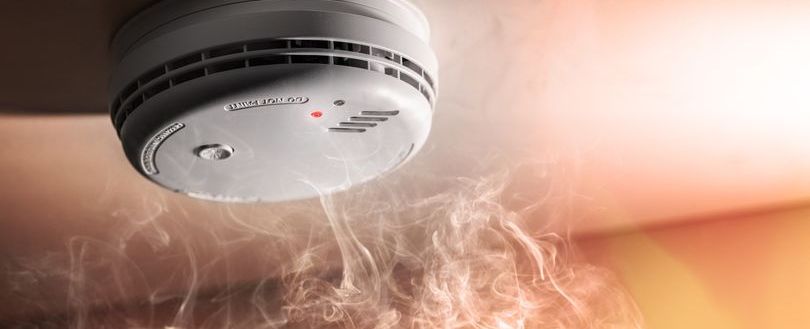 A family from Maidstone who say their smoke alarms allowed them to escape safely from a devastating fire are backing Kent Fire and Rescue Service's Fight Against Fire mission
On Thursday (7 April) Kent Fire and Rescue Service embarked on its Fight Against Fire mission, to install and test as many smoke alarms as possible in one day, in homes across Kent and Medway
Hundreds of uniformed firefighters with ID knocked on doors offering the free home fire safety visit service, to help keep people safe.
Someone who is a huge supporter the initiative, and owes his life and the lives of his family to working smoke alarms, is 40-year-old Dominic Plumb from Maidstone.
Dominic's Story
While opening presents on Christmas morning 2021, the Plumb family had no idea that the most cherished gift they'd receive that day was yet to come – the gift of safety. During a game of charades after dinner, with his wife, Nicki, his parents and his two teenage sons, Dominic heard the smoke alarm sounding.
"My first thought was 'what is Nicki cooking now, we're so full from dinner' – thinking the oven had triggered the alarm" said Dominic.
"I went into the hallway to stop the beeping and it wouldn't go off. Then the upstairs one started to sound as well so I went to take a look up there.
"I smelt smoke coming from one of my son's bedrooms, opened the door and immediately felt extreme heat and then saw the bed was on fire and flames spreading across the room. I straight away realised how bad it was and closed to door to hold the fire back from the rest of the house.
"I got everyone outside, and then we heard a loud bang as the windows blew out."
Dominic called 999 just before 7.30pm and six fire engines, a height vehicle and the volunteer response team swiftly arrived at the scene. Crews tackled the blaze, however there was considerable fire damage to the bedroom, landing and roof space, and smoke damage throughout the upper floor.
Dominic said: "The fire service came really quickly and they were amazing. They were very reassuring and supportive.
"Luckily no one was hurt though, and we really have the smoke alarms to thank for alerting us early on, before the flames could break through the bedroom door and spread around the house – without working smoke alarms we might not have realised until it was too late to escape safely.
"It's really scary to think if the fire had started just a few hours later, my son would have been in that bed."
The cause of the fire has been linked to an electrical fault with a charging docking station device placed on the bed, which was in use for the first time having been a stocking filler gift opened just that morning.
Since the blaze, the Plumb family has moved between six properties, while their home is restored.
Dominic said: "The thing we have learnt from this awful experience is that smoke alarms save lives! Also never leave anything charging on a bed, and avoid charging items overnight or when you're not around – top tips from the firefighters that we will now be living by."