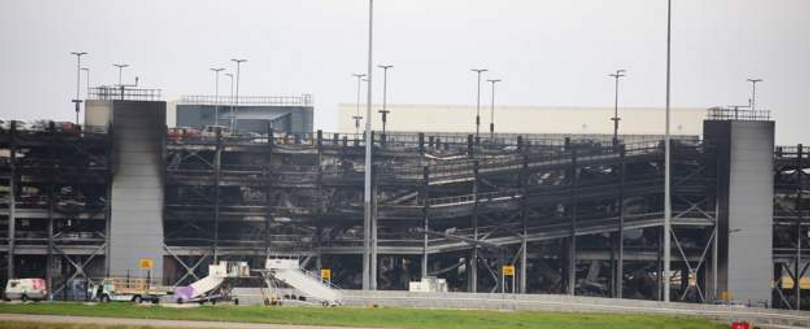 Structural collapse at Luton airport car park following significant fire incident
On the morning of 11th October, a major fire incident at Luton Airport's multi-storey car park led to a significant structural collapse, prompting a temporary cessation of all flights until later in the afternoon.
Image Source: SBNA
According to Bedfordshire Fire & Rescue Service (BFRS), the fire, which commenced on 10th October around 20:47, engulfed half the parking space and resulted in a robust response from the emergency services.
By 08:45, on 11th October, the fire was successfully extinguished, following an extensive overnight operation involving 15 rescue pumps, three aerial appliances, and over 100 firefighters. The focal point of the fire appears to have been a vehicle on the third level of the multi-storey car park, leading to widespread damage. Early estimates suggest that up to 1,200 vehicles may have been affected by the fire's rapid proliferation. Andy Hopkinson, Chief Fire Officer at BFRS, reported no injuries among the public.
However, six firefighters and one airport employee required treatment for smoke inhalation, as per East of England Ambulance Service. There were mentions of loud explosions heard by witnesses on site, a testament to the fire's intensity and quick spread across the parking facility. The absence of sprinklers in the parking lot was noted, with recommendations for their inclusion in any future renovations, to bolster fire safety measures.
London Luton Airport, being the fifth-busiest airport in the UK, experienced a significant impact on its operations. The halt in flights until 15:00 on 11th October, coupled with advisories against early morning arrivals, underscored the severity of the situation. An estimated 25,000 airline passengers faced disruptions due to flight cancellations and delays, highlighting the substantial operational and logistical challenges posed by such incidents.
As emergency crews worked tirelessly to manage the situation and prevent further spread to adjacent structures, an update confirmed the fire's containment. However, severe traffic delays around the area persisted, and passengers were advised to avoid the vicinity for the time being.
The cause of the fire is under investigation, though initial assessments indicate an accidental ignition within a vehicle as the most probable cause. As the situation continues to unfold, updates will be shared with all relevant stakeholders.
The Fire Industry Association reiterates the importance of robust fire safety measures, especially in densely populated and high-traffic areas, to mitigate the risks and impacts of fire incidents.
View the SOURCE here.
Our eNews provides regular insight into industry trends, news headlines, and product and service information. For news articles parallel to those mentioned above, sign up for our eNews. Click here to sign up: Subscribe to our enews (fia.uk.com)